The Microsoft Technology Center "December Data Literacy" Series
Data Literacy is a fundamental skill for the Digital Age. While companies have lots of data, very few folks know how to leverage data to be an insights-driven company. At the MTC, we want to change that. We created a workshop series for December to help evangelize data fluency.
Feel free to signup for one, or all, events.
The Microsoft Technology Center (MTC) delivers immersive engagements focused on business outcomes. This workshop is hosted by Dave Wentzel, the Philadelphia MTC's resident Decision Architect. Dave has been working with all things data for more than 25 years. Many technologists have "know-how", but few have "know-what" and "know-why". Dave's concentration is in data science, prescriptive analytics, and data literacy.
"We have a data lake, a data warehouse, and Power BI…but no one has still been able to show us how to leverage our data assets to provide actionable intelligence." – heard during a recent MTC engagement
Thinking Like a Data Scientist
December 10 1-4pm EST
Does data science terminology seem overly confusing? Would you like to learn more about data science but are scared of the math? You don't need to hire "data scientists" to think like a data scientist. Fact is, you're probably doing "data science" today. You don't need to know a lot of python to be an effective data scientist. We'll cover important terminology and use cases and then dive-in by exploring data with tools you are already using. Even if you employ data scientists today this session will help you understand how to work better with data.
Prescriptive Analytics: The Future of Data in the Enterprise.
December 15 1-3pm EST
Most companies are doing reporting and dashboarding (Descriptive Analytics) today and some are doing Predictive Analytics (ML, AI, data science). The future is Prescriptive Analytics…using data to solve complex business problems. Business leaders want to know…"what do I do next?". This requires thinking differently about how you utilize data. We'll discuss the tech, but more importantly, how to think about data differently and structure a successful Prescriptive Analytics team that can use data to support a decision architecture.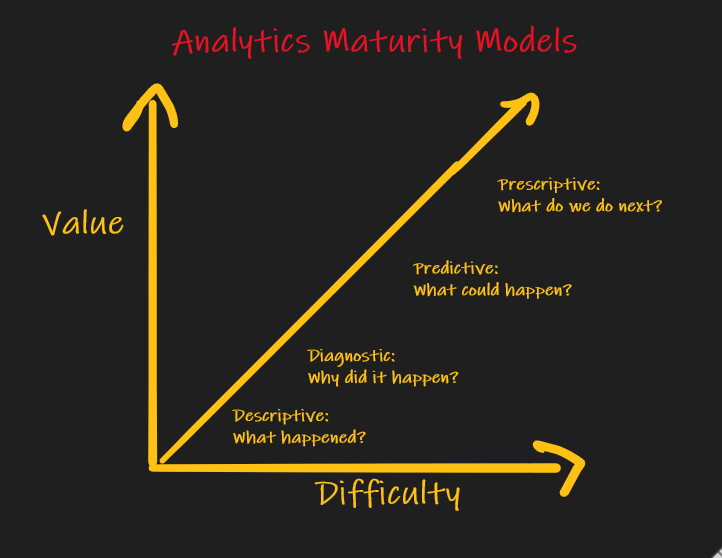 How to NOT make analytical cognitive mistakes
December 6 1-3pm EST
Companies want to be "data-driven" and use data to generate actionable insights. Unfortunately that sometimes mean we accidently use data to support our biases and preconceptions. Data is hard. Numbers are hard. Make sure you don't mistakes interpreting your data. We'll show you some methods that data scientists use to avoid making analytical mistakes.
Design Thinking as a way to avoid data project failures.
December 17 1-3pm EST
Analytics projects are risky and have a high rate-of-failure. Why is that? Is there a better way to do these projects? The best data scientists practice "human-centric, empathetic design thinking". This allows us to get to the real business requirements and enables us to openly discuss solutions. Then we use Rapid Prototyping to show how to take a design and implement it.
But we won't just "teach" you Design Thinking…we'll actually use it with a real-world use case so you can see it in action.
Building a Data CoE: Analytics Best Practices
December 16 1-3pm EST
Most companies already have a data Center of Excellence. But is it optimized for self-service analytics? Is focusing on Data Governance and Data Quality stifling innovation? Is your CoE promoting data literacy and fluency? Why do data centralization efforts fail and is there a better way? We'll answer all of these questions as well as give you a concrete set of implementable Best Practices that you can incorporate into your CoE.
RSVP Today!
Please RSVP. We promise we won't spam you. A Microsoft Teams meeting invite will be sent to you a few days before the event. We are not yet sure we will record these sessions.